PHOTO CREDIT: Sara Grace Photography FLORAL CREDIT: Twila Smucker
Part 3 of our 3 part series about florals was written by Twila Smucker, a floral designer from Idaho who enjoys growing, arranging and gifting flowers to the people around her. She also enjoys helping brides make their floral dreams a reality. If beautiful floral arrangements are your thing, give her a follow on Instagram.
What are the advantages of working with a florist?
I would say that the advantages of going to a professional florist is having less worries about flowers arriving on time and keeping them in good condition until the wedding. However, florists typically charge you the cost of the flowers and then add times 3 the cost of the flowers for arranging them for you. So if you order $500 worth of flowers, they will charge you $500 for cost and $1500 for their work, which means you pay $2000 for what you could do for $500 even if you order them from that same florist and get a friend or someone to arrange them for you. Using a florist however, can take a huge amount of stress off of you….you can just go and order what you want and some even deliver out to your event the day of the wedding when you are ready to take pictures! The brides I do flowers for admit that "doing it themselves" (Ordering and making sure they are shipped on time, washing buckets with bleach and cutting the flowers as they arrive and adding flower food, having fridge space for the more delicate ones, foraging for wild greenery, etc…) is a bit more labor intensive than they expected. But for girls who really want a beautiful flower-filled wedding, often they are willing to make the sacrifice of this extra stress so they can afford the kind of wedding they want. (Nowadays, with Pinterest and Instagram, girls look at wedding pictures of people who probably paid $20,000 to $50,000 for their weddings and expect people like me to make a miracle happen…produce me this look for $1000, please! )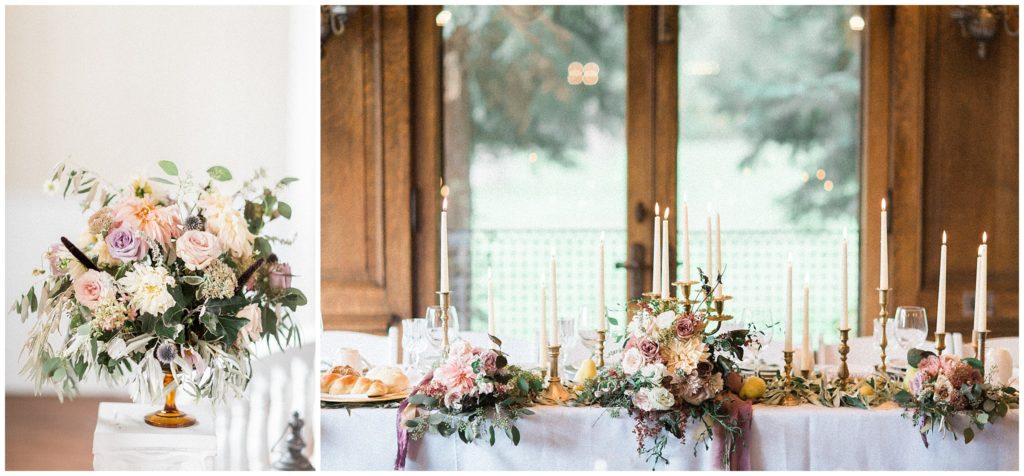 When I first started doing wedding flowers, we went the route of ordering most of our flowers online. However, that can be fairly anxiety-producing. My daughter Kristi ran a whole hour to chase after a Fed-Ex truck that we knew had our day-late flowers, but wouldn't be getting to our place until late afternoon when we needed the stuff to get a whole huge wedding party's bouquets started! We have plenty of stories to tell of stress because sometimes online orders are not very dependable. Sometimes it can be difficult to know when to say they should arrive. For flowers that we know can arrive very tightly shut (regular roses, carnations, wax flower, stock, etc), we order them to arrive a week ahead of time to give us time to let them open. Then we just refrigerate them once they are open to where we want them. Garden roses don't last long so we order them to arrive Wednesday if the wedding is Saturday. This gives you a day's leeway if the shipping is delayed! Because of some of our stressful experiences, we have actually went to ordering more through a local florist. We have established a very friendly relationship with our small town's florist and she orders what we want and keeps it in her fridge for us until the day we need it and it saves a lot of headache for us even if it costs a little more to go this route. We still do order some online if the price is significantly cheaper. Sam's club is an excellent source for greenery…they sell huge amounts of ruscus, eucalyptus, and olive branch far cheaper than you can get anywhere else. If you are not a member they do add 10 percent on the cost but allow you to order and it is still cheaper than anywhere else that we have found. Costco can also be a good source of cheaper flowers depending on what you need and we have found both of these places fairly dependable in delivering on time.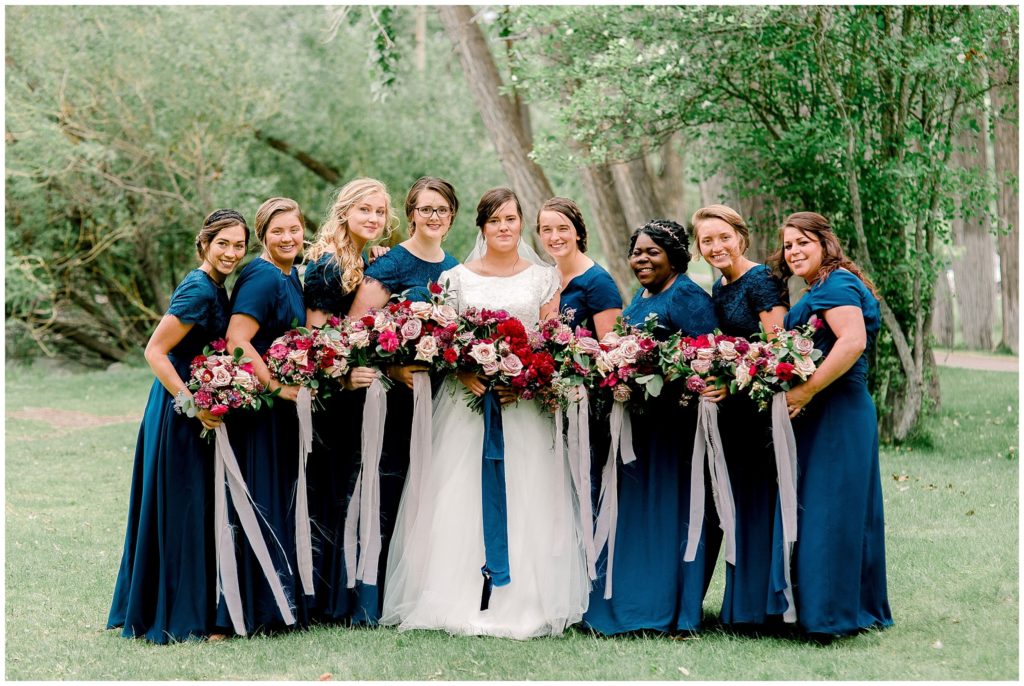 Do you have any tips for finding a florist that will help you achieve the results that you are looking for without breaking budget?
I guess I would just encourage girls to go into their local floral shops and ask how they accomodate do-it-yourselfers. Also, try to discover any flower farms in your area. We have an excellent source here in my local town, a lady who grows and sells from her own farm at very decent prices. Often if you find a farm like this, you can go and discuss with them the shades of flowers you want and they can come up with a list of the flowers they think will be blooming over the time of your wedding. This is often much cheaper than ordering everything through a florist, but you may have to be more flexible on what kinds of flowers you will have. We often tell them we will be wanting a certain number of bunches in a specific color. Then they will make up the bunches, and I will go and choose the ones I like. We will have these random flowers from the flower farm as fillers and then order the exact roses, peonies or ranunculus (main flowers) from our local florist or online. If you have flower growers in your church, don't be scared to ask if they would give you some peonies or tulips or whatever is blooming in their gardens over your wedding. Many will be happy to share a few with you…offer to pay them something though. 🙂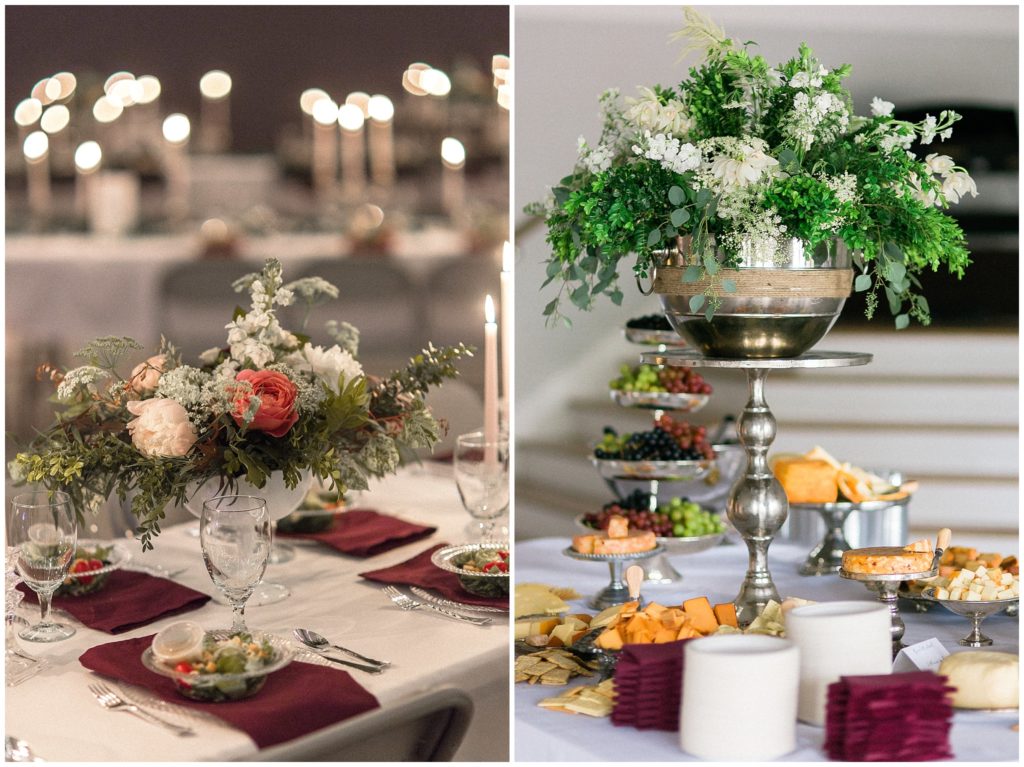 What is a reasonable budget for florals?
It depends if you get married in the winter or summer! If you have to order every flower the CHEAPEST we have been able to do for a wedding with only 3 bridesmaids has been between $400 to $500. That was extremely bare bones, small bouquets, small wedding party, lots of greenery rather than flowers. But we also spent just $500 for my daughter Kristi'swedding, which was FAR from bare bones…her wedding was overflowing with flowers, because I grew many of them myself, we foraged in the wild, ordered online, and used local flower growers. And it was in September when flowers were at their peak! Brides need to realize that for every extra bridesmaid they have, they will probably have at least $50 to $100 extra just for the COST of that bridesmaid's flowers, not counting what they should give to someone like me for arranging them. This is a bit of a difficult question for me to answer, as mostly I have donated my time and tell people they can give me a gift. I never charge CLOSE to 3 times the cost of the flowers!
Brides should know a $100 gift to someone who has 1. foraged all day Thursday for wild and free greenery and fillers, 2. spent from 8 am to 10 pm on Friday making eight bridesmaid bouquets, the Bride's bouquet, boutonnieres and fifteen corsages 3. decorates your head table and makes an arch after dark yet 4. runs in Saturday morning to put flowers on the cake and do last minute arrangements here and there- probably isn't quite sufficient! We also have a lot of hidden costs…floral tape, wire, flower food, vases, headband wires, corsage pins, staples, ties for the arch, floral water tubes, floral foam, gas running around picking flowers, etc… so I think a suggested gift of $500 for a "do-it-yourself" friend would be entirely appropriate. I was told by my local florist that the one arch I did and showed her a picture of was a $600 arch. (wow, I had no clue!!)
Please do not expect your florist to be a miracle worker! She will need several helpers especially if you expect her to do all the table arrangements as well. It takes one person just to strip and prep the flowers, wire and tape any fragile blooms in the bridal bouquets or corsages, especially if your bridal party is large. It takes WAY more time to do 9 bouquets than 3 or 4!!
It can be very worthwhile to scout in your woods or fields and see what pretty greens you can find ahead of time that might work instead of ordering them all. We found several wild trees with gorgeous leaves that we use all the time now in our arrangements. You MUST test each kind ahead of time…bring it home, put it in water and see if it lasts nicely for several days! Be careful, as some wild things can be hard on your hands (Plant snap is an excellent app that allows you to take pictures of a plant and identify it and then you can look it up to see if it can cause rashes, or is poisonous, etc)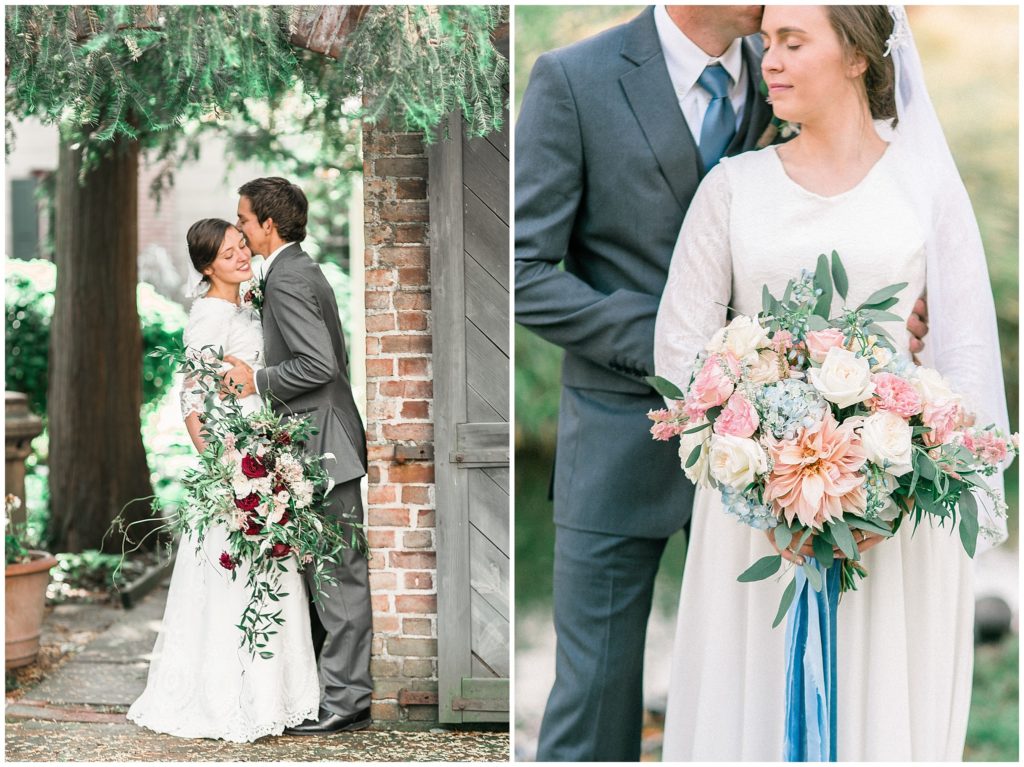 One thing that has been frustrating to me is when brides keep coming up with new stuff for me to do that I didn't know about ahead of time. The bride should make a list of ALL the places she will need flowers so her florist can know how many flowers she should order. Nothing is more stressful than not having enough flowers to work with because the bride did not think through what all she would need them for and then springs last minute things on me that I had no clue she had in mind! I have learned to get the bride to send me a list of every bouquet, corsage, arch, boutonniere, bench end decorations, table arrangements, bridal tables, flower girls and so on!
I think the most my brides have spent on the flowers alone was around $2000 to $2500. This gave them plenty of flowers but even then we foraged and used some of my own and that didn't include any money they paid to me or my helpers for our work. So, cost of the flowers alone ranged from $400 to $2500 on the weddings we have done.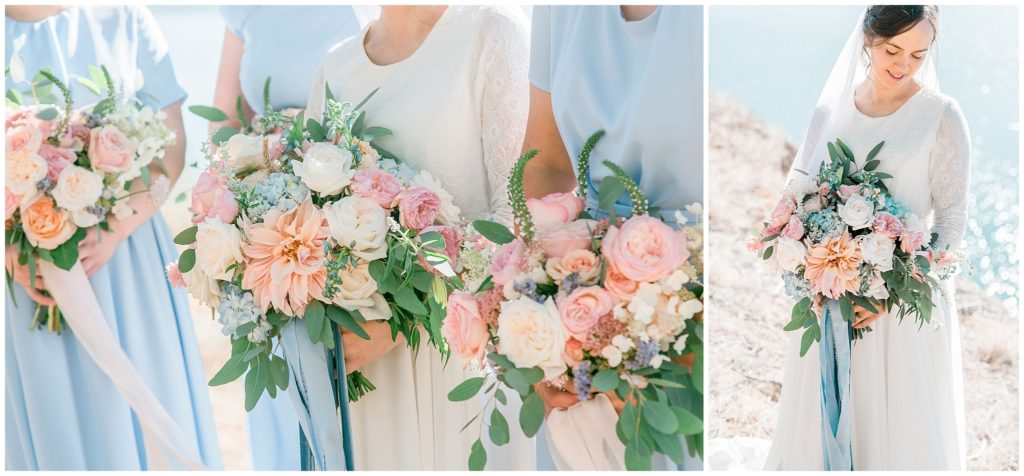 One tip: If you want the look of a garden rose, but don't want to pay the $3 to $5 apiece for them, order regular floribunda roses and get them to open good, then blow into them and twirl their stems to make them open: also you can gently work the petals open with your fingers, and achieve a garden rose look on a cheaper type rose! Be careful, however, with doing this on light colored roses as it can easily bruise their petals.
Another tip: Find out if there are flowers that can be saved for a long time in your own or friends' gardens. For instance, Peonies can be stored for several months if you pick them at the marshmallow stage, wrap in damp newspapers individually and store in plastic bags in a fridge! Flowers should never be stored in a room or fridge with fruit as the fruit lets off a gas that will ruin your blooms. We saved our June picked peonies for our daughter's mid-September wedding! A few molded, but most opened up nicely into beautiful blooms after recutting and putting in warm water for a few hours! I think peonies run between $5 to $7 a stem and we saved over a hundred from ours and different friend's gardens so that was a significant savings!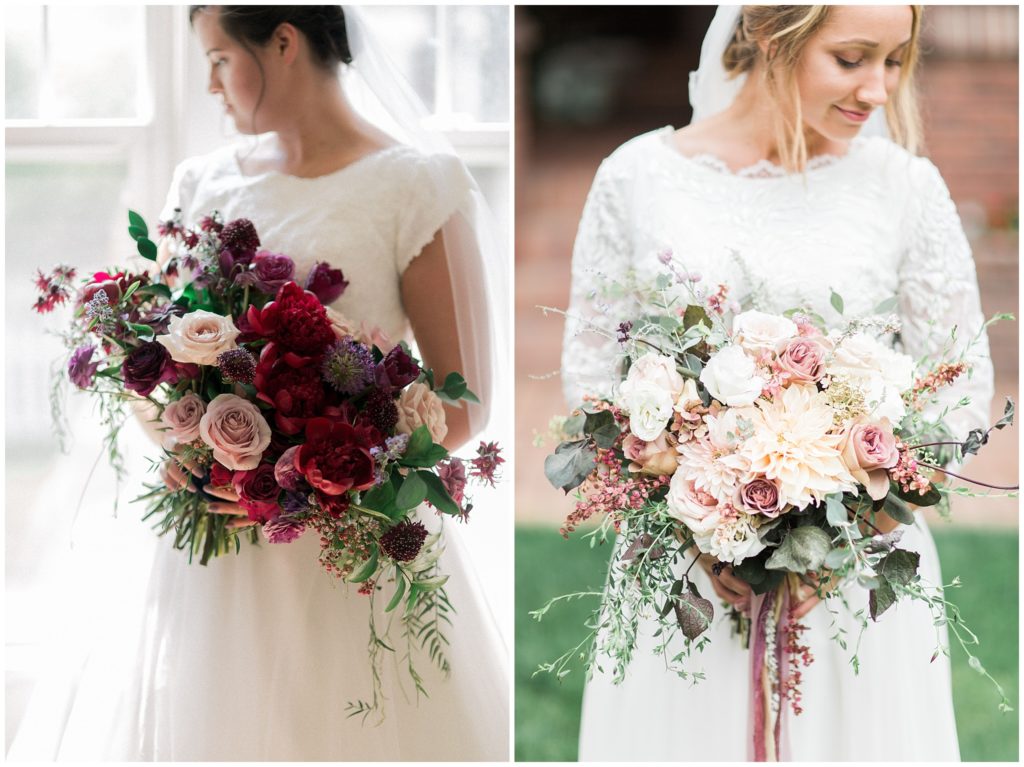 Are there ways to work with a florist and yet do some of it yourself to save money?
I think I already answered most of that. One suggestion is to get the florist to do the bridal bouquets, corsages, etc and you can get friends to do the table arrangements, arches, etc. This will be pricier than doing it all yourself but much less than having her do all the arrangements for signing table, reception tables, and bridal tables. One benefit of having a professional florist order your flowers is that she has a wholesale license and sometimes has access to flowers at a better price than you can find, even if she does mark it up when she resells to you. Or she can order kinds that only wholesalers can get, if you are looking for a specific kind. (I am thinking of getting a florist license but so far have not taken that step.)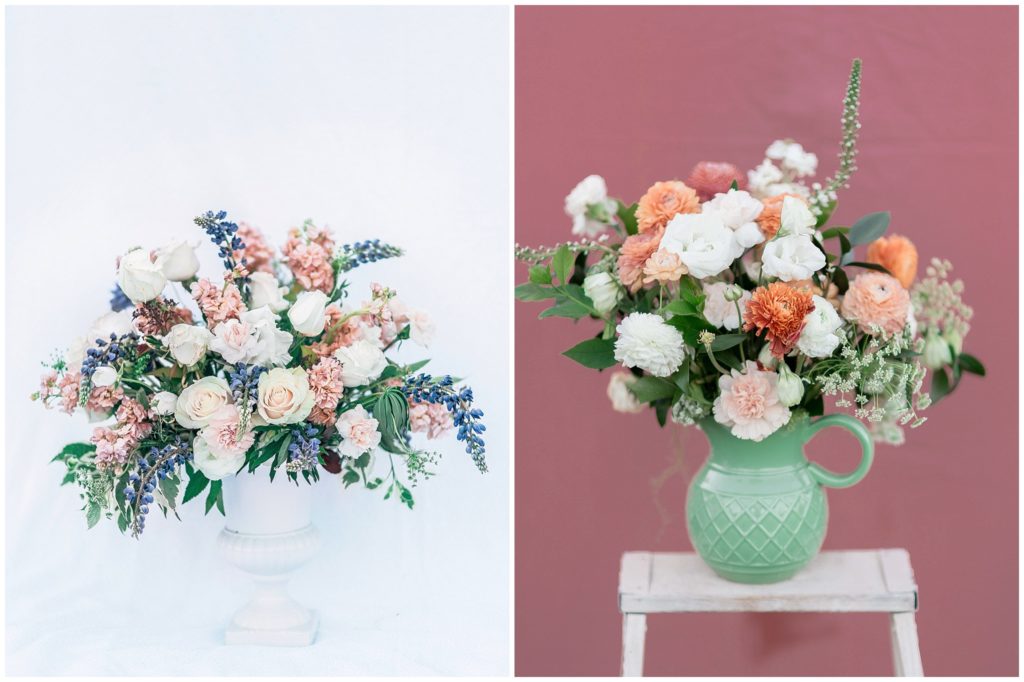 Finish this sentence. A good florist will __________________________________________.
A good florist will communicate well! She will sit down and help you order the flowers, give you a clear idea of the costs and perhaps give you suggestions of cheaper flowers to substitute if your budget can't handle your initial dreams. Sometimes it might be best to just give her a general idea of the look you want and let her run with her creativity. It is good to have a florist you can trust to give you the look you are going for. Just as there are differences in styles of photography, there are different styles of florists. Some like the flowy, natural look; others, the formal tight look. Ask to see some of their bouquets or follow them on Instagram to see if you like their style! One of my brides was willing to pay some of my way to PA for her wedding because she liked my style and could not find any local florists who had the flowy look that she wanted! If you are going with a friend and not a professional florist, she should be organized, detailed, and easy to communicate with. She should tell you the costs up front and have a good idea of the amounts you will need to achieve your dream. If she is not professional but someone like me who does it for weddings and has worked with do-it-yourself brides, she should have a general knowledge of where to order, when to order, how many to order, how to store the flowers, what supplies are needed, and how much help she will need to get the job done. She will also have a good idea of what kinds of flowers go well together, how many big main flowers you will need, what are good filler flowers, what greenery names and kinds are, etc. She should know which types of flowers and greenery work best for flowy arrangements, which ones hold up the best especially if you are getting married in the very peak of summer heat!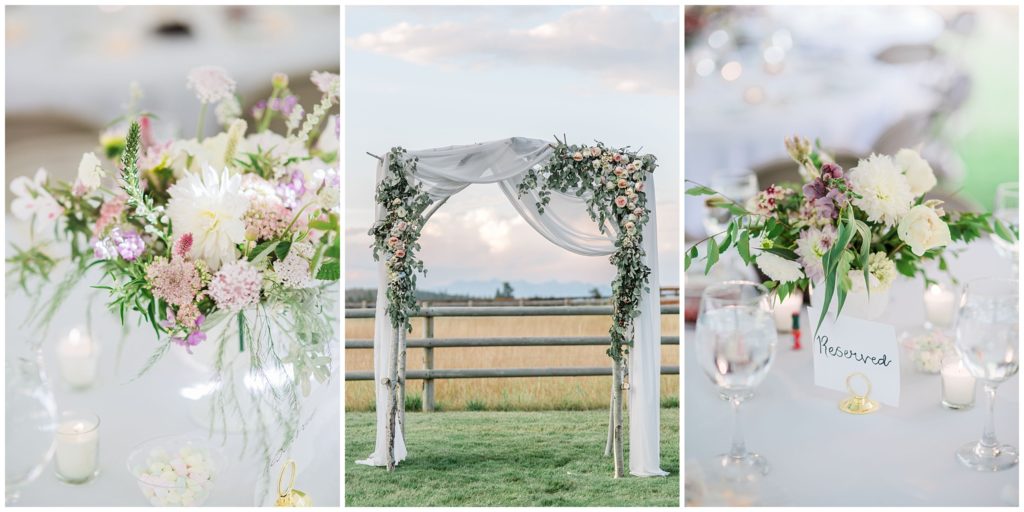 What other tips do you have on this subject?
I don't know if you want details about how to prepare the flowers? We tell people to bleach containers, fill with several inches of water, put in floral food, and cut the stems  off at a slant about 1/2 to 1 inch when they arrive. If you are storing in a fridge, that fridge should be tested ahead of time to make sure it will NOT freeze the flowers! Try not to over stuff the fridge as the fuller it is, the more chance of the flowers freezing, especially in the back of the fridge. Put your most precious expensive flowers near the front of the fridge in case you do have a problem…at least if they freeze they will be the fillers and not your most important blooms. Do not put near air conditioners as this can ruin them.
Think ahead for things you will need if you do it yourself. A mirror to look at the bouquet as you are making it, ribbons or twine to finish off the bouquets, all the floral tape, wire, foam, jars to put the finished bridal bouquets in for overnight storage in water, corsage pins, and so on.
We here at Wedding Bliss Planner are very grateful for all of the input that we were given from Donna, Amber and Twila and hope that these three articles will be helpful as you make the decisions regarding florals for your wedding. If you missed the first two articles you can read Part 1 HERE and Part 2 HERE.